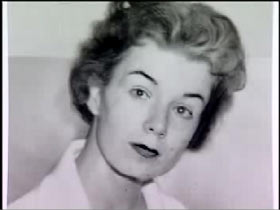 The murder case my dad, Alex Peebles, worked on in the 1960s will air on December 13, 2016 on Investigation Discovery channel. The show is called, A Crime to Remember. I was interviewed in February of 2016 to add perspective as the son of the lawyer who represented Sharon Kinne.
She was accused of multiple murders. First, there was the "accident" where her young daughter allegedly shot her husband in the back of the head while playing with their gun. Only a few months after investigators ruled it an accident, she was implicated in another murder. Then they reopened the death of her husband. From that point onward, the race to convict her was on.
This post is more of a reflection and a deeper look into one of her attorneys.
My dad, Alex Peebles, was a very gritty, street smart, well-connected, and powerful lawyer who built his reputation representing all types of criminals in the 40s, 50s, 60s, 70s, 80s, and 90s — clear up to when he became so old he couldn't walk into a courtroom. I became a lawyer at the tail end of his career, and practiced law with him for 5 years, driving from courtroom to courtroom in the Ozarks listening to all his stories. During his career, he represented anyone and everyone who could pay his fees, and even those who couldn't. With them, he allowed them to work out their fees in manual labor. I always tell people that he makes the character in "Better call Saul" look like a school child. Back in that time, it was anything goes. It was like the legal version of the wild west.
Alex Peebles smoked a pipe, had greased back hair, was well dressed all the time, and could charm the shirt off of you and you would be glad to give it up. He was also very crass and ruthless when he needed to be. He would cuss and yell into the phone, and hang up when he was done talking. He wasted no time with chit chat. He was a consummate deal maker. Everyone in the legal community owed him favors, and he kept a tally in his head. He "put" many judges on the bench, delivering the news like this:
"Do you want to be federal judge?"
"Yes, Alex, yes."
"Then get your ass down here!"
Click.
Then that federal judge owed my Alex Peebles big time. His currency was favors. And the currency exchange from favors to dollars was very profitable for him.
When he did you a favor, it was always when you really needed one. And there would always come a time when he would call it in. And he had such a graceful way of reminding you of what he did for you, even years later.
His firm represented Nick Civella and all his associates. While he was the charmer, the deal worker, the people person, he surrounded himself with outstanding legal talent. With them at his side, my dad told me that for a 7 year stretch, they never lost a single case against the State of Missouri, or against the Government.
While he represented the mob, he refused to be their errand boy. I remember a story he told me. After a month or so of being retained, he got a call from one of the associates of Mr. Civella.
They said something to the effect, "The boss wants you over here at 4 pm."
He demanded to talk to the "boss."
When Mr. Civella got on the phone, my dad blasted him:
"I am not one of your boys. I am an attorney. If you want to talk to me, then call my secretary and make a god damned appointment!" He then slammed down the phone.
After that, he decided to carry a revolver with him just in case that the mob might want to take him out. They didn't. He and his partner, Mr. James Quinn, and their associates kept winning cases for them.
So when Sharon Kinne's mother, who worked at his firm as a legal secretary, pleaded with him to help her daughter, it was a case that he couldn't refuse. Over the course of several years, the State of Missouri tried, and tried, and kept trying to convict Sharon Kinne. But with a combination of good luck, great lawyering, sloppy lawyering — she kept getting off.
Again and again.
While out on bond and awaiting a new trial after winning an appeal, Sharon Kinne took a "vacation" to Mexico where she allegedly killed a prominent Mexican-American man, Francisco Parades Ordoñez, during what appeared to be a botched robbery. When an employee of the hotel intervened, she shot at him but only hit him in the shoulder. The employee still had the strength to subdue her until the authorities arrived. My dad immediately took a flight down to Mexico.
He walked into her cell, and she had this meek look on her face.
He said to her, "Sharon, I think your aim is off. You are shooting high and to the right." She didn't respond.
Even though my dad pleaded with the authorities in Mexico to allow him to represent her, they refused. She got sentenced to 10 years at trial, and then after appeal, her sentence was increased to 13 years.
Then she disappeared from a Mexican prison and has never been seen since. Her arrest warrant is one of the longest active warrants in the country. Did she escape on her own? With no money and no contacts, not likely. Did the family of her murder victim get her out to exact the ultimate revenge? Who knows.
Many people believe that my dad helped her escape. Perhaps after Sharon's mom pleaded with him for months and months, maybe he paid someone to get her out, and gave her safe haven at his ranch in Honduras, then shuttled her to South America. Maybe. Maybe not. Every time anyone ever asked my dad if he had something to do with her escape, he always chose to remain silent.
Danny Peebles
The Wikipeadia Page for Sharon Kinne: https://en.wikipedia.org/wiki/Sharon_Kinne
Investigation Discovery: http://www.investigationdiscovery.com/
A Crime to Remember: http://www.investigationdiscovery.com/tv-shows/a-crime-to-remember/